Welcome to the Sweat app!
To help you get started, we have put together a brief tutorial explaining each area of the Sweat app!
What programs can I choose from?
After logging in to your account, you will be brought to a screen displaying each of our trainers and their programs.
If you're unsure where to begin, you can choose to complete an optional survey to assist you with making the right program choice based on your personal goals. You can also check out our blog posts for an in-depth explanation on what each program includes:
Which Sweat Program Is Best For Me?
'Which Yoga Program Is Right For You?'
What workouts should I be completing each week?
Your weekly goals can be found within the Sweat Summary, along with a hydration and step tracker.
To view the Sweat Summary, tap the Sweat drop symbol in the top right-hand corner of the screen.

Workouts
You will find your essential weekly workouts from your selected program at the very top of the 'Workouts' dashboard, under 'My Program'. These include Resistance, Cardio and Recovery sessions, along with your trainer, program, and week information.
For each completed workout, a trophy is displayed alongside each training type.
Resistance and Recovery
Each program's Resistance and Recovery sessions are structured differently and follow various timing sequences.
For those with busy schedules and limited time allowance, each session can be completed in 60 minutes or less!
Tap the workout to view the workout overview. The workout and recovery overview gives you the opportunity to prepare for the upcoming session and allows you to view the movements in advance. You can view and choose the following:
Select Music Playlist (Apple Music or Spotify)

Required equipment

Enable/disable the workout audio settings, such as trainer audio and sirens, and

Enable/disable the workout transitions, such as timed rests and exercises.
Once you're ready to begin your resistance workout, tap 'Start Workout' and select a warm-up from the options provided;
No Warm-Up

Cardio (5 minutes)

Cardio & Movement (5 minutes)

Movement
To start a cardio or recovery session, tap 'Start' (iOS) or 'Start Workout' (Android and Web).
At the end of the resistance workout, the option to complete a cool-down is provided. We highly recommend completing a cool-down session as this can help to promote recovery, prevent injury, improve flexibility and slow down the heart rate to even blood flow throughout the body!
Sweat trainer, Kayla Itsines, talks more about the importance of recovery in her blog post, '5 Things You Should Always Do After A Workout'.
At the completion of a session, take a sweaty selfie, share a trophy or invite a friend to trial the Sweat app!
Cardio
For your Cardio (Low-Intensity) sessions, you set the workout by selecting the type of activity.
Before beginning your low-intensity session, you can choose from walking, running, cycling and sports & recreation (other).
In the workout overview, you can set the timer, activity type (Low-Intensity), work/rest ratio (High-Intensity), before tapping 'Start' (iOS) or 'Start Workout' (Android and Web) to begin the session.
More information on how to complete the Cardio workouts can be found within the Community section (under Education), and in our High-Intensity Cardio (HIIT) and Low-Intensity Cardio (LISS) articles.
Other Programs
To provide variety, you have the option to complete a resistance workout from a different trainer! While you can't toggle between main programs, you can select a workout from another program under the 'Other Programs' heading, without having to change your main program.
Incorporate workouts from other trainers for an extra challenge or depending on your energy levels that day!
On Demand Workouts
To mix up the training week, you can choose from a number of other workouts to support the main program. These workouts will count towards your weekly goals:
New This Month
At-home Workouts
Express Workouts -

For those short on time, swap out a resistance workout for a 15-20 minute workout.

De-stress Collection -

Relieve muscle DOMS (delayed onset muscle soreness) with extra recovery workouts.

Targeted Areas - focusing on glutes, shoulders and core
Challenges
Yoga, Pilates & Barre
Stregnth
High Intensity Workouts
Always remember to follow the recommendations provided in your main program as closely as possible. It is also important to keep in mind that it is not recommended to complete more than one resistance session per day.

Profile
To access your Profile, tap your avatar in the top right-hand corner of the screen. From here you can access:
My Profile - Set your name, height, weight, diet, units, language and date of birth.

Getting Started - here you will find some tutorial videos and helpful tips

Manage My Program - View your weekly goals or change your program and/or week.
My Equipment - save a list of all the equipment you have on hand

Friend Referrals - Invite a friend to start their journey

Log out

View our Help & Support articles, Privacy Policy & Terms of Use

Contact us - leave a message for a Sweat Team member to get back to you.
Planner
Workouts can be easily arranged throughout the week to plan ahead and work around any other commitments you have. The Sweat Planner shows your workout history and scheduled workouts in a monthly calendar. Tap the date that is highlighted to view your steps, scheduled workouts and completed workout summary in the timeline view.
Each trainer provides a slightly different workout schedule, however, most suggest completing the Resistance workouts on Mondays, Wednesdays and Fridays and completing the Cardio workouts on the alternating days.
For Example:

Monday - Resistance
Tuesday - Cardio
Wednesday - Resistance
Thursday - Cardio
Friday - Resistance
Saturday - Cardio & Recovery
Sunday - Rest

The weekly planner can be found by tapping 'Planner' at the bottom of the screen, or next to 'My Program' on the 'Workout' dashboard. To find your trainer's recommended workout schedule, within the calendar view, tap the 'Settings' icon to the far right of the screen. Here, you can enable 'Use Suggested Workout Plan'.
The suggested workout plan can also be rearranged, so long as the trainer's recommendations are followed closely.
To rearrange your workouts simply swipe left on the workout and select 'Book' or 'Edit' OR hold down on the workout you want to re-schedule and 'Drag & Drop' onto your preferred day. You can also schedule your workouts for your preferred time.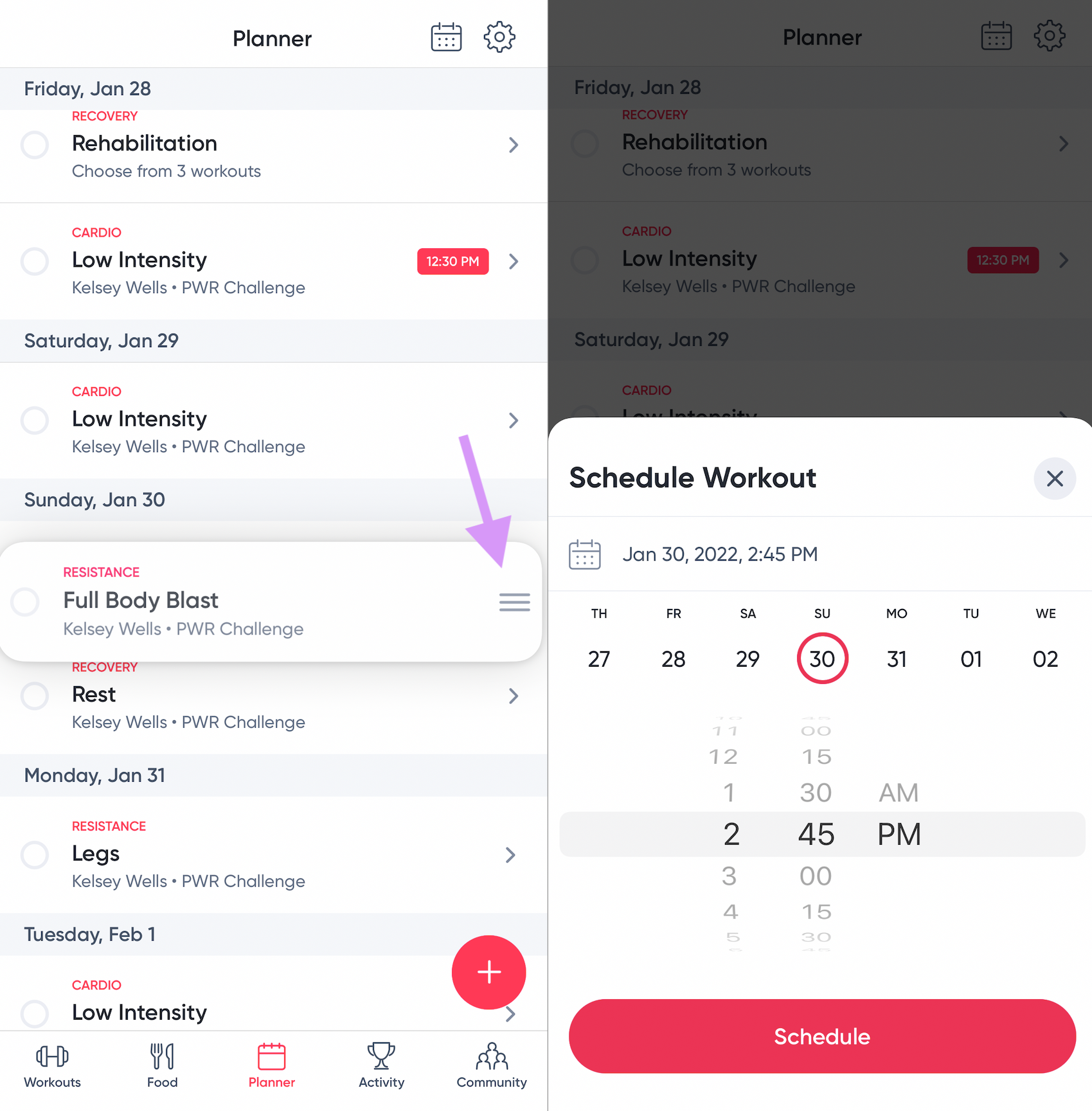 The Week within the Sweat App will run from Monday to Sunday, depending on the timezone that has been set. Sunday, at midnight, your account will roll into a new week, regardless if your weekly goals are completed.
For further information on how to add, delete and edit activities, see our Planner article here.
Food
Following a healthy and balanced diet is really important and can help to maximise your results and get the best out of the workouts you complete each week.
Daily meal plans are provided within the Sweat app and can be tailored towards a number of dietary preferences, including:
Standard

Pescetarian

Vegetarian

Vegan

Lacto-Vegetarian, and

Ovo-Vegetarian.
To update your preference, select the 'Food' tab, then 'Settings'.
To provide variety, the meal plans will change daily and weekly to correspond with the new workout week. Each new week will begin on Sunday at midnight, depending on the time zone that has been set.
To view the following week's and previous week's meals, scroll back and forth using the arrows across the top of the screen.
When shopping for the upcoming week's groceries, ensure the following week is in view by scrolling forward to see that week's Shopping List.
More information about the Shopping List can be found within our article here.
Understanding the meal plan
Some of the ingredients within recipes contain an alternative option. Tap the arrows (< >) to view and swap ingredients within the recipe. Please note that not all foods include an alternative.
Activity
Here you will find your goals for the week, a record of all of your achievements and badges that you have earned and your progress photos.
Your progress can be recorded by taking regular progress photos. These photos are stored within the 'Progress' section.
You can also upload photos directly from your camera roll into the Sweat app!
Community
The Community feature provides direct and convenient access to the Forum and Blog pages, as well as a comprehensive Education section.
The Forum and Blogs are a great place to connect with thousands of other women to share ideas, motivate and encourage each other and engage in discussions about a number of varying fitness topics.
Check out our Community support article for more information on how to sign up and explore this feature!
Learn more about getting the most out of the Sweat app.
If you have any concerns, questions or feedback regarding the Sweat app, please reach out to our Support Team.