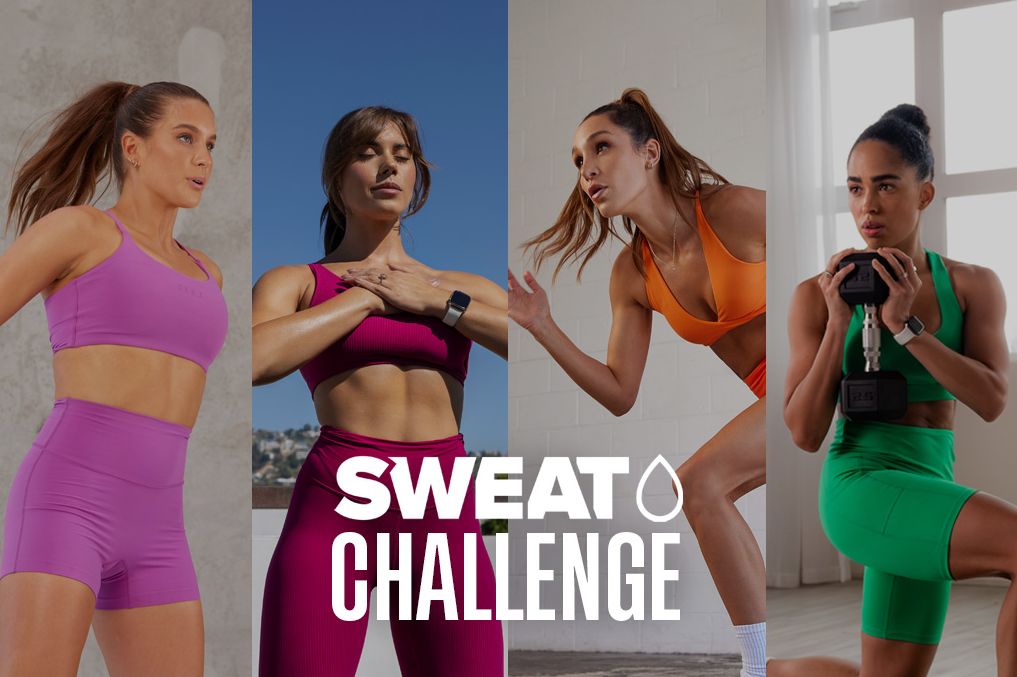 What is the Sweat Challenge?
The Sweat Challenge is an exclusive 6-week program designed to start 2024 feeling strong - inside and out.
Sweat Trainers Kayla Itsines, Kelsey Wells, Katie Martin and Britany Williams have designed 4 brand-new 6-week Sweat Challenge programs with your goals and wellbeing in mind and we've bought back 8 Challenges you've loved before.
When does the Challenge start?
Week 1 of the Challenge will begin on Monday, 8 January 2024 and continue through until Sunday, 18 February 2024.

The entire community will come together and perform the Challenge together! Therefore, each challenge week will be available within the app for one calendar week. If you join the Challenge a week late on Monday, 15 January you will start in week 2 of the Challenge. You are not able to go back and begin in week 1. To receive the entire 6 weeks' worth of Challenge workouts, be sure to sign-up before or on Monday, 8 January 2024.

What does the Sweat challenge include?
The 4 brand new Sweat Challenge Programs can be completed entirely from home with the exception of one gym-based program.
Bootcamp Challenge - Inspired by the classic bootcamps that Kayla has run all over the world, get ready for two full-body HIIT weekly workouts. Each workout requires no equipment and can be completed in less than 30 minutes, giving you an achievable goal and a program that can be completed anywhere, anytime
Mindful Strength Challenge - Strengthen your body and mind to start the New Year strong, with Kelsey's blend of mindfulness and strength training. Each week features five 30-45 minute strength workouts to target different muscle groups, two of which are optional, alongside optional cardio to keep you moving. Kelsey has also included a weekly mindfulness video to infuse your week with new techniques to help you feel more present and positive in your body and life.
HIIT Pilates Challenge - Feel the burn in more ways than one with this blend of Pilates and high-intensity interval training. There are four 35-45 minute weekly workouts, one being optional, with each session targeting a different muscle group. The only equipment you need is a resistance band and Pilates ball or rolled up towel, making it easy to complete your workouts anywhere, anytime.
Core Strength & Mobility Challenge - Build a stronger fitness foundation with Brit by working on your strength, mobility, posture and balance. There are three 30-40 minute weekly workouts, each targeting different muscle groups, alongside an optional fourth workout and a cardio session. For an extra challenge, select the Challenge Me option to add an additional workout to your week. You'll need dumbbells, a resistance band, and a bench or chair, making this a great program for training at home or in the gym.
And we've bought back 8 Challenges You've loved before:
PWR at Home Challenge

High Intensity Challenge with Kayla

Barre Challenge

Fierce Challenge (gym-based)

High Intensity Strength at Home Challenge with Cass

Yoga with Phyllicia Challenge

Lifting at Home Challenge

PWR Challenge (gym-based)
The Challenge includes programs that use basic pieces of equipment for extra resistance and two programs that will be gym equipment based.

What are my weekly goals?
Each week during the Challenge, you will be provided with the following goals, making sure there is something for you every day:

Resistance workouts 3-4

Cardio workouts (Low-Intensity Cardio) x 1-2

Recovery workouts x 1-2
Once the challenge begins on Monday, 8 January 2024, you'll find your specialised challenge workouts at the top of the Workouts Dashboard. Every Monday your app will renew into the next challenge week and these workouts will update to provide you with a new set of workouts.

How do I schedule my Challenge workouts each week?
Each trainer has created an example week. To view this, ensure you have the 'Suggested Workout Plan' enabled within your Planner Settings. You can edit and rearrange your workouts to suit your daily and weekly commitments. All resistance workouts will count towards your weekly goals.

When and how do I register for the challenge?
To participate in the Sweat Challenge you need to register within the Sweat App. To Register, tap the Challenge banner at the top of your Workout Dashboard and select 'Join the Challenge.' Once you have selected 'Join the Challenge,' select your Challenge program!
Registration will be available in the Sweat App on Monday, 27 November 2023 and closes on Monday, 22 January 2024.
If you don't see the Challenge banner at the top of your screen, make sure you have the latest version of the Sweat App downloaded, and your device is running the most up-to-date operating system.

Existing members will be able to register by tapping 'Join the Challenge' and selecting their desired Challenge program. New members will need to first download Sweat and subscribe before being able to register.
To receive support, workout reminders, daily encouragement and inspiration from the trainers and the Community throughout the challenge, we recommend turning on push notifications in your device Settings.

Can I leave the Challenge?
To leave the challenge, tap the Challenge banner at the top of the Workout tab and select 'Preferences' (three dots).

If you choose to leave the challenge after registration closes on Monday, 22 January 2024, you will unfortunately not be able to rejoin. We do not recommend leaving the challenge unless you are absolutely sure that you want to return to the standard Sweat workouts. To access the limited time workouts, you will need to stay in the Challenge.

What happens when the challenge is over?
Once the challenge ends on Sunday, 18 February 2024, you can select to restart your Sweat program from where you left off, start at a different week or start a new program.

Check out our blog post for more information! https://www.sweat.com/blogs/fitness/sweat-challenge