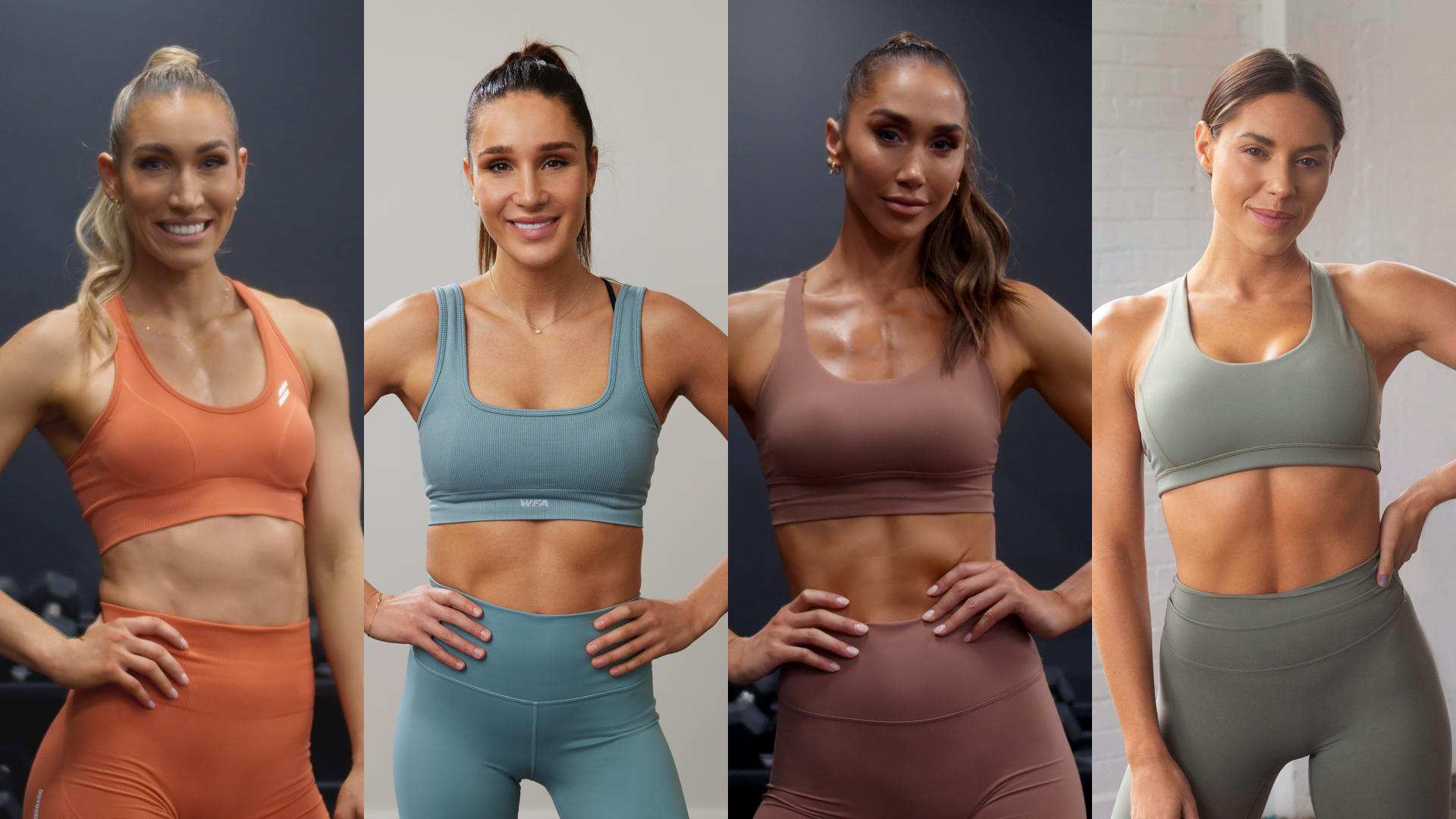 What is the Sweat Challenge?
The Sweat Challenge is an exclusive six-week program designed by women for women to help them achieve their health and fitness goals and create healthy habits for the long term.
Select from 16 exclusive Challenge Programs including 4 NEW programs, across a range of training styles including HIIT, strength, barre, boxing and low-impact.
When does the Challenge start?
Week 1 of the Challenge will begin on Monday, 20 of June and continue through until Sunday, 31 of July 2022.

The entire community will come together and perform the Challenge together! Therefore, each challenge week will be available within the app for one calendar week. If you join the Challenge a week late on Monday, 27 June 2022 you will start in week 2 of the Challenge. You are not able to go back and begin in week 1. To receive the entire 6 weeks worth of Challenge workouts, be sure to sign-up before or on Monday, 20 June 2022.

What does the Sweat challenge include?
The Sweat Challenge Programs can be completed entirely from home with the exception of five gym-based programs.
BUILD

Strength & Performance with Cass (NEW)
FIERCE with Chontel

PWR with Kelsey
The Challenge includes programs that don't require any equipment as well as programs that use basic pieces of equipment for extra resistance and two programs that will be gym equipment based.

The equipment-free Challenge Programs include:
High Intensity with Kayla

PWR Zero Equipment
Challenge Programs that have equipment include:
High Intensity with Kayla

Low Impact with Kayla

Express Strength & HIIT with Kayla (NEW)

PWR at Home with Kelsey

FIERCE at Home with Chontel

High Intensity Strength at Home with Cass

LIFTING at Home

Low Impact Barre (NEW)

Strength & HIIT with Chontel (NEW)

HIIT with Monica
After selecting from the Challenge program options, you will then be asked to select your difficulty level.


Starting Out for beginners or those new to the programs
Challenge Me for intermediate/advanced

*Please note not all programs will have both options
What are my weekly goals?
Each week during the Challenge, you will be provided with the following goals, making sure there is something for you every day:

Resistance workouts 2-4

Cardio workouts (Low-Intensity Cardio) x 1-2

Recovery workouts x 1-2

Express workouts (10-20 minutes) x 2
Once the challenge begins on Monday, 20 June 2022, you'll find your specialised challenge workouts at the top of the Workouts Dashboard. Every Monday your app will renew into the next challenge week and these workouts will update to provide you with a new set of workouts.

How do I schedule my Challenge workouts each week?
Each trainer has created an example week. To view this, ensure you have the 'Suggested Workout Plan' enabled within your Planner Settings. You can edit and rearrange your workouts to suit your daily and weekly commitments. The Express Challenge workouts are not assigned to a specific day, so you can perform the workout whenever it suits you. All resistance workouts, including Express and the Bonus challenges, will count towards your weekly goals.

When and how do I register for the challenge?
The Sweat Challenge registrations open on Monday, 6 June 2022. To participate in the Sweat Challenge you need to register within the Sweat App. To Register, tap the Challenge banner at the top of your Workout Dashboard and select 'Join the Challenge.' Once you have selected 'Join the Challenge,' select your Challenge program!
Registration will be available in the Sweat App on Monday, 6 June 2022 and closes on Sunday, 4 July 2022.
If you don't see the Challenge banner at the top of your screen, make sure you have the latest version of the Sweat App downloaded, and your device is running the most up-to-date operating system.

Existing members will be able to register by tapping 'Join the Challenge' and selecting their desired Challenge program. New members will need to first download Sweat and subscribe before being able to register.
To receive support, workout reminders, daily encouragement and inspiration from the trainers and the Community throughout the challenge, we recommend turning on push notifications in your device Settings.

Can I change my program/difficulty or leave the Challenge?
You can change your Challenge program, equipment availability and difficulty before or during the challenge. To change or leave the challenge, tap the Challenge banner at the top of the Workout tab and select 'Preferences' (three dots).

If you choose to leave the challenge after registration closes on Sunday, 4 July 2022, you will unfortunately not be able to rejoin. We do not recommend leaving the challenge unless you are absolutely sure that you want to return to the standard Sweat workouts. To access the limited time workouts, you will need to stay in the Challenge.

What happens when the challenge is over?
Once the challenge ends on Sunday, 31 July 2022, you can select to restart your Sweat program from where you left off, start at a different week or start a new program.


Will the Sweat Challenge be available on the Apple Watch?
The following Challenge programs will be available on the Apple Watch:
Strength & Performance with Cass

Strength & HIIT with Chontel

Express Strength & HIIT with Kayla

High Intensity with Kayla

Low Impact with Kayla

PWR at Home with Kelsey

PWR with Kelsey

FIERCE by Chontel

FIERCE at Home with Chontel

BUILD

LIFTING at Home




High-Intensity Strength at Home with Cass

HIIT with Monica
Check out our blog post for more information! https://www.sweat.com/blogs/fitness/sweat-challenge