You are welcome to delete your Sweat account at any time, however please be aware that you will be permanently removing all data associated to your Sweat account including achievements, progress photos, workout data and you will no longer receive any promotional/marketing materials.
You will also forfeit any remaining days on your Sweat subscription. Before deleting your account, we recommend that you check to see that you have no active subscriptions on your account. You can view your subscription information on the web app. Simply head to https://join.sweat.com/en/users/sign_in, login and click on your Profile, your subscription details will be under My Subscription
If your subscription is via your Apple or Google Play subscriptions, you should be able to find all your subscription information within your Apple ID/Google Play Subscriptions, which you can find in your device settings.
For more information on cancelling your account, please refer to our support article How do I cancel my Sweat app subscription?
To delete your account:
In the Sweat app, tap your profile icon at the top of the screen
Select My Profile
Scroll down to the bottom of the page
Select 'Delete Account' - this is located under your member number
Select Delete Account, read and follow through the screen prompts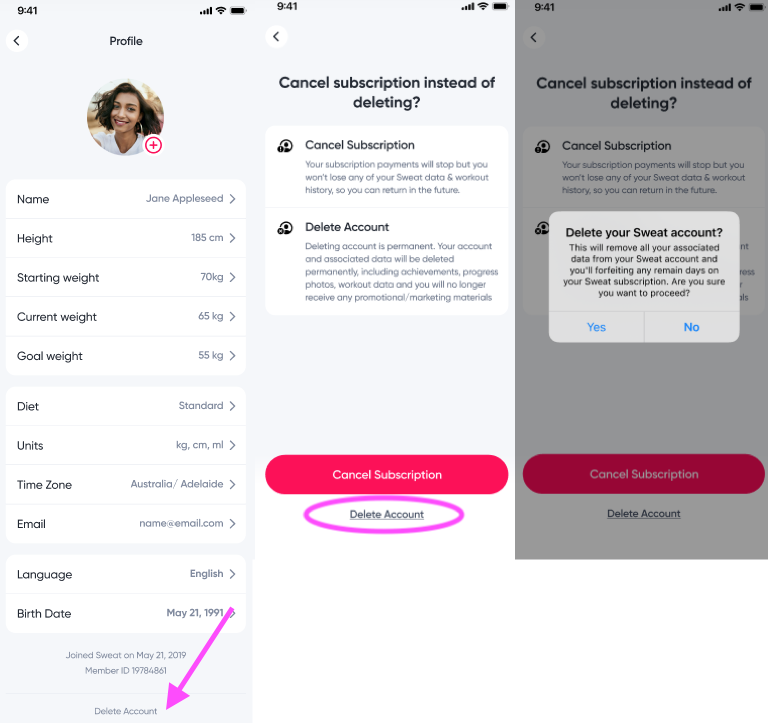 If you are experiencing issues or would like to discuss your account further, our Support Team are always happy to help! You can contact our Support Team here.