Suggested Workout Planner
The Sweat app provides you with suggestions on how to plan your weekly resistance, cardio and recovery sessions.
Enable/Disable suggested workout plan
To enable/disable the 'Suggested Workout Plan' select the right icon in the top right hand corner of your screen. This is your Settings page where you can toggle between on/off. 
Schedule Activity
To schedule an activity to your planner select the '+' icon alongside the day you wish to schedule an activity. 
You can schedule a Resistance, Cardio, Recovery, Challenge or Lifestyle activity.
Delete Scheduled Activity 
To remove a scheduled activity from your planner, tap the activity you wish to delete and select 'Delete Activity' at the bottom of your screen.
Set Alert to Activity
To set an alert for a scheduled activity, tap the activity, select 'Alert' and set a time that you wish to complete your session. Tap 'Save' in the top right hand corner.
Sync to my device calendar
To sync the Sweat Planner to the calendar on your device, select the far right icon 'Settings'. Enable 'Sync to Calendar' to automatically sync the two calendars together.
You will need to ensure Sweat has access to your device calendar.
Please note: If you have an alert set for an activity in the Sweat app, you will only receive a notification if you have 'Sync to Calendar' enabled, and have also set an alert for the activity within your device calendar.
Edit Weekly Goals 
If you forget to log a workout or accidentally mark a workout as complete, you can add and remove workouts under 'Manage My Program.' This can be accessed within your Profile or by tapping the middle icon in the Activity tab, which is where you can manage your week.
Under Weekly goals, tap a session type and either un-tick and tick your Resistance, Recovery and Challenge workouts or tap the + and - buttons to increase and decrease your Cardio sessions.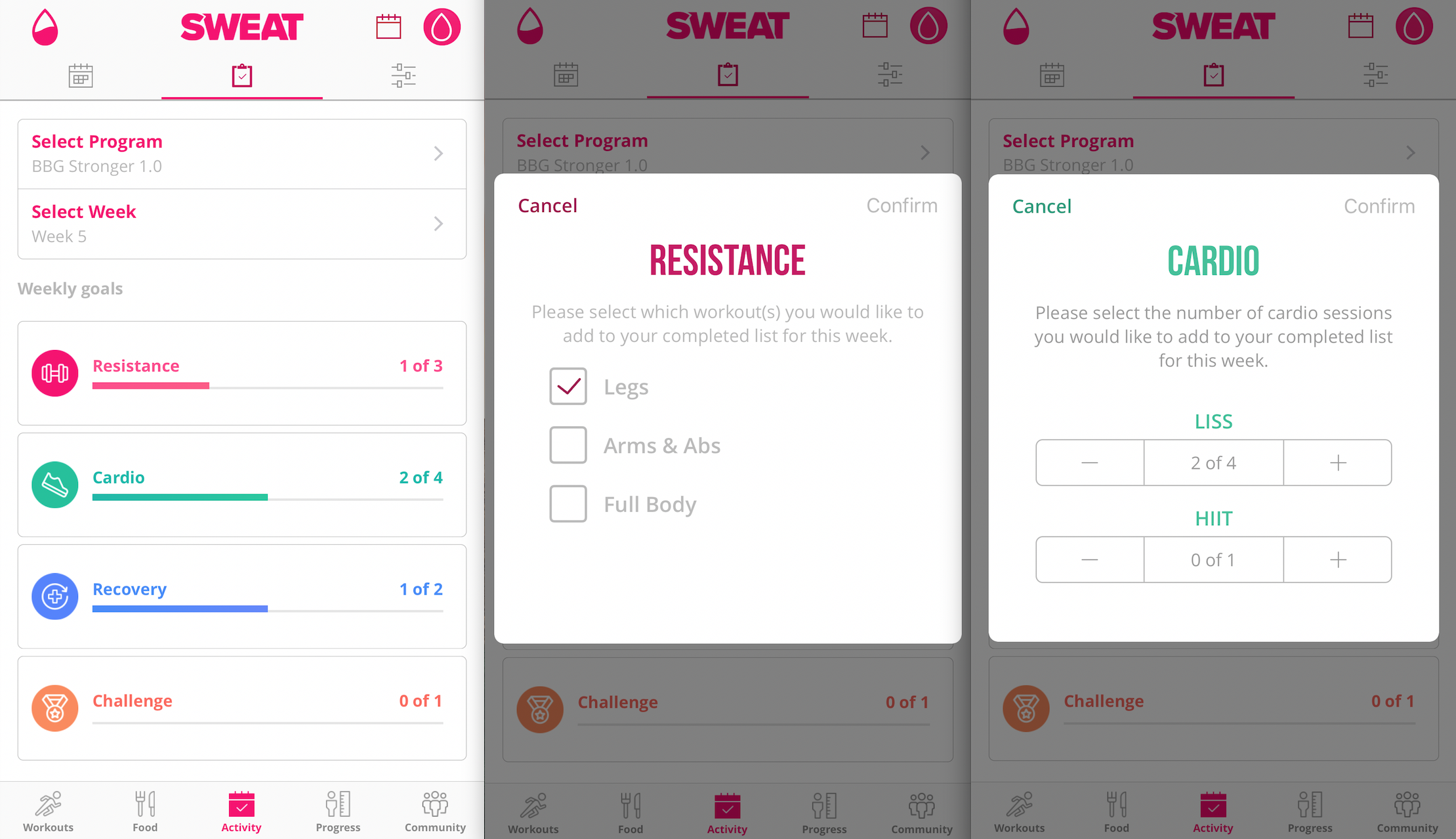 Steps
If you allow the Sweat app to track and record your steps, they will appear within your planner as Steps!
Please refer to our Support Article 'Track My Steps' for further instructions on how to set up this feature.