The Sweat Planner shows your workout history and scheduled workouts in a monthly calendar. If you tap the date that is highlighted, you can view your steps, scheduled workouts and completed workout summary in a timeline view.
To return to the monthly calendar, tap the arrow at the top left-hand corner of your screen.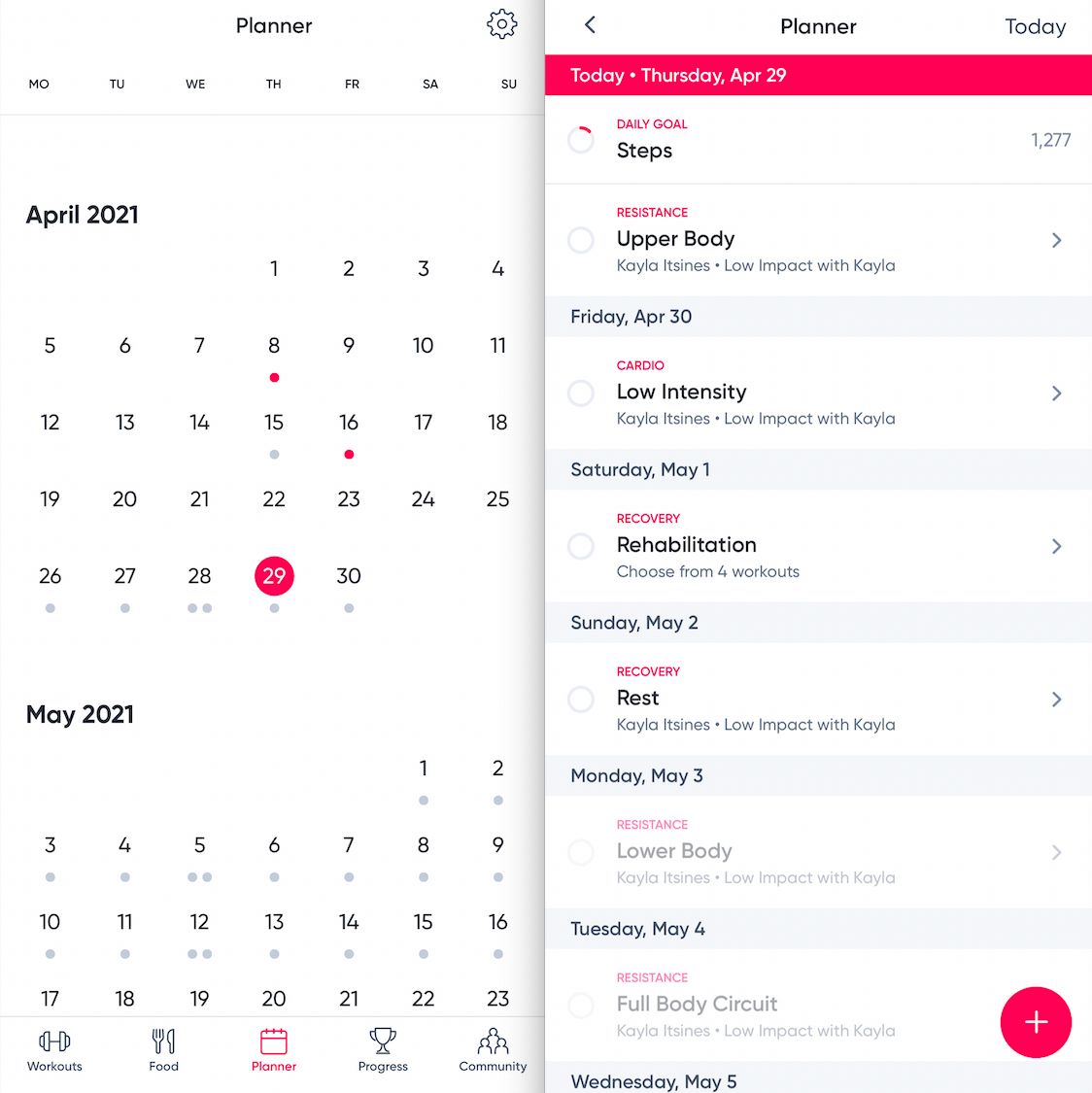 In the monthly calendar, grey dots represent scheduled workouts and pink dots represent completed workouts.
If you complete two or more workouts from the same category, only one dot will be displayed.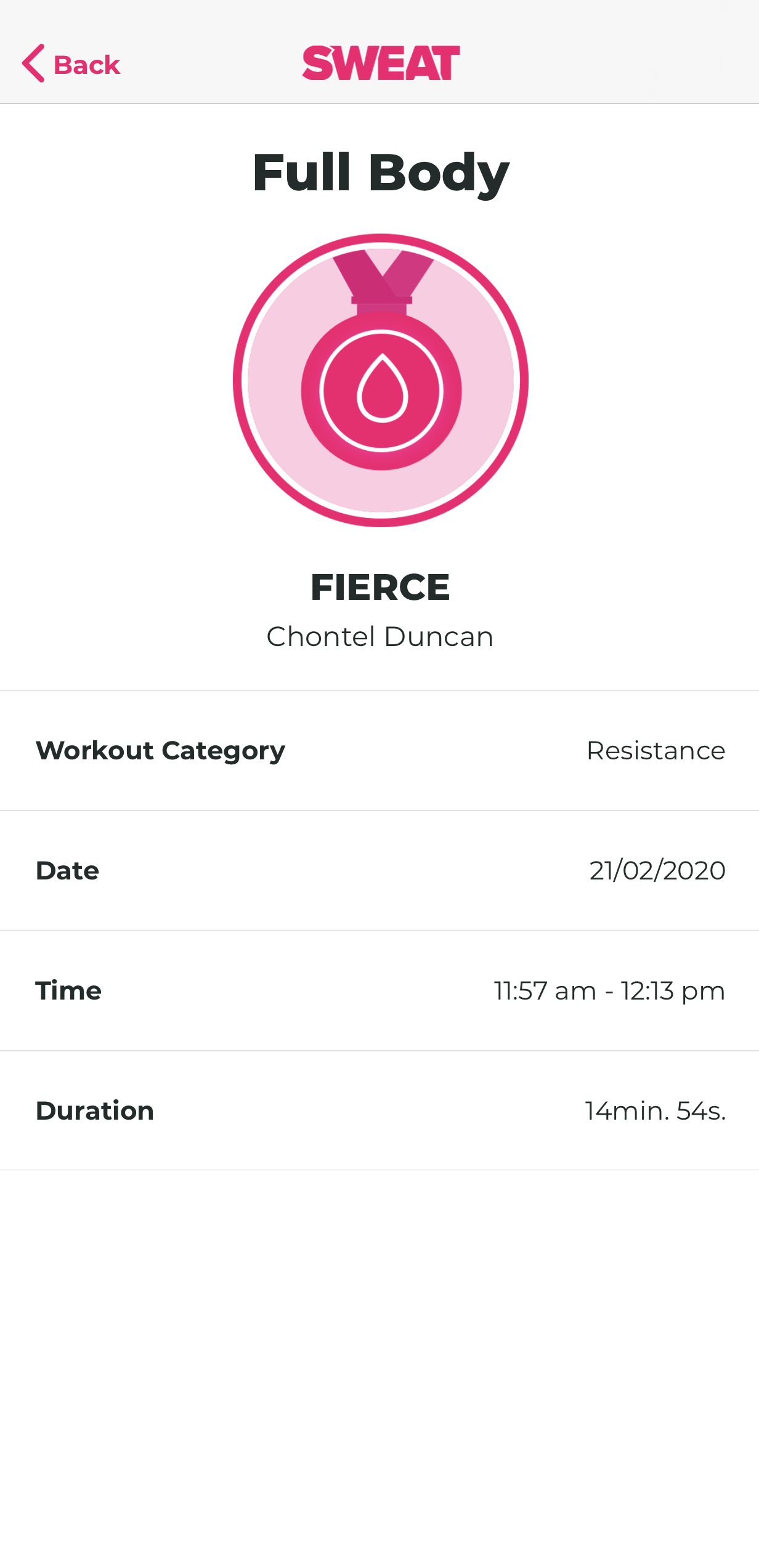 To view your workout summary, including the date, time of the workout and duration, tap the completed workout.
How do I sync my steps?
To sync your steps, tap 'Connect' in the timeline view and allow access to Apple Health (iOS) or Google Fit (Android).
Please refer to our Support article, How do I track my steps and set a daily step goal?, for further instructions on how to set up this feature.
How do I enable the suggested workout plan?
To help you to schedule your weekly training, each Sweat trainer has put together a suggested workout plan with suggestions on how to plan your resistance, cardio and recovery sessions.
You can enable and disable this feature by tapping the settings (cog) icon from the monthly calendar.
How do I schedule an activity?
If you have enabled the suggested workout plan, you can set a time or change the day of a scheduled activity.
To re-schedule, swipe left on the workout and select 'Book' or 'Edit' OR hold down on the workout you want to re-schedule and 'Drag & Drop' onto your preferred day.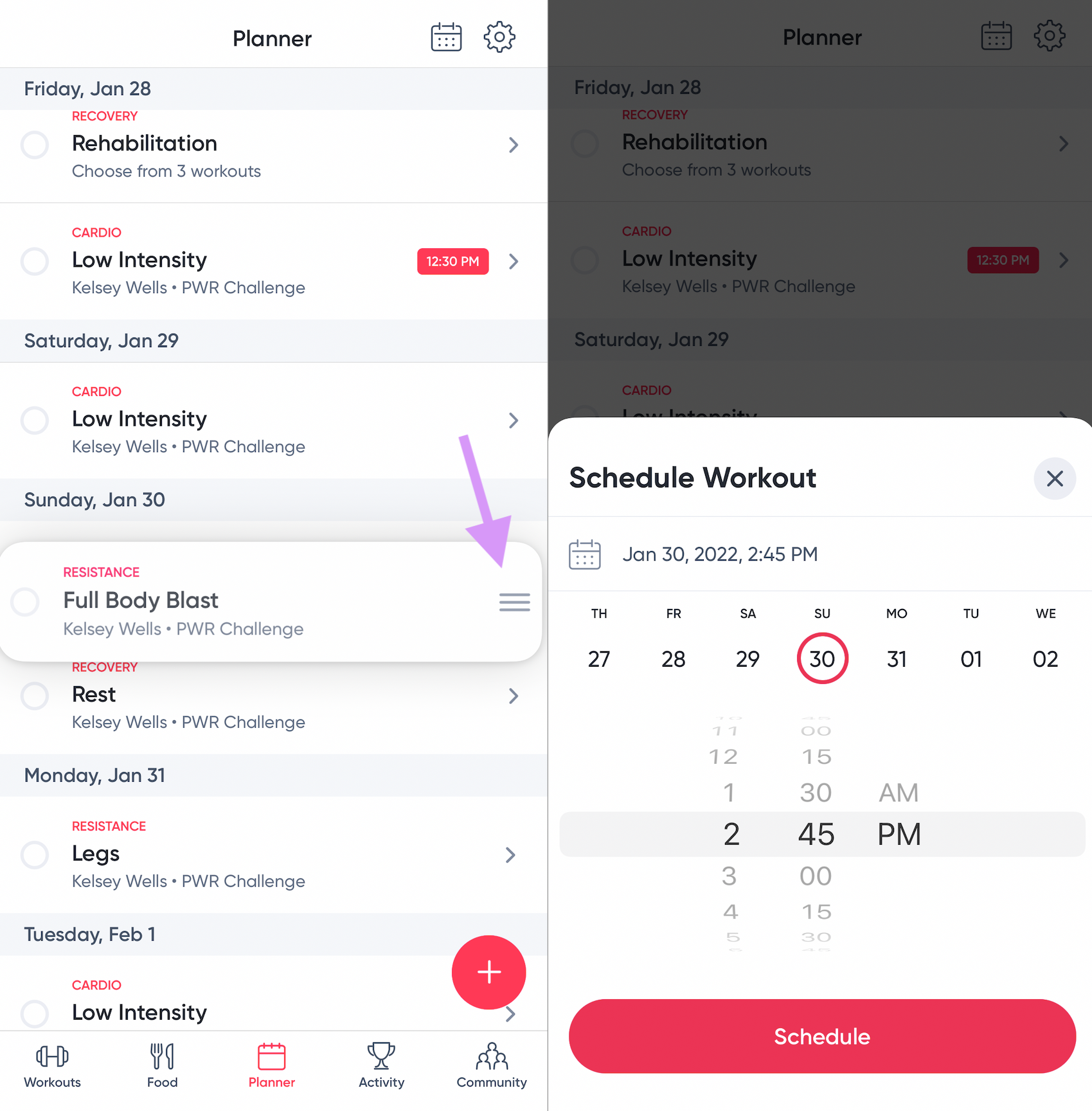 You can also schedule your workouts directly from the Workout Dashboard. Simply tap on the workout to expand the Workout Overview and select 'Schedule workout' or 'Edit'.
​​
To create your own workout plan or add extra workouts into the suggested plan, you can schedule workouts directly from the Workouts dashboard— in the workout overview, tap the calendar icon, set a date and time, and select 'Schedule' to save.
How do I set up workout reminders?
Sweat sends workout reminders an hour before the scheduled activity. To receive these reminders, make sure to have 'Notifications' enabled for the Sweat app within your device settings.
If you do not see Notifications within your device settings, uninstall and reinstall the Sweat app and you should be prompted to enable this.
Please note that you will only receive a workout reminder for workouts that have a scheduled time.
How do I delete a scheduled/completed activity?
To delete a scheduled activity from your planner, tap the activity you wish to delete and select 'Edit'. Tap 'Delete Event' to remove the event from your planner.

Please note that you will only be able to delete an activity that has a time set.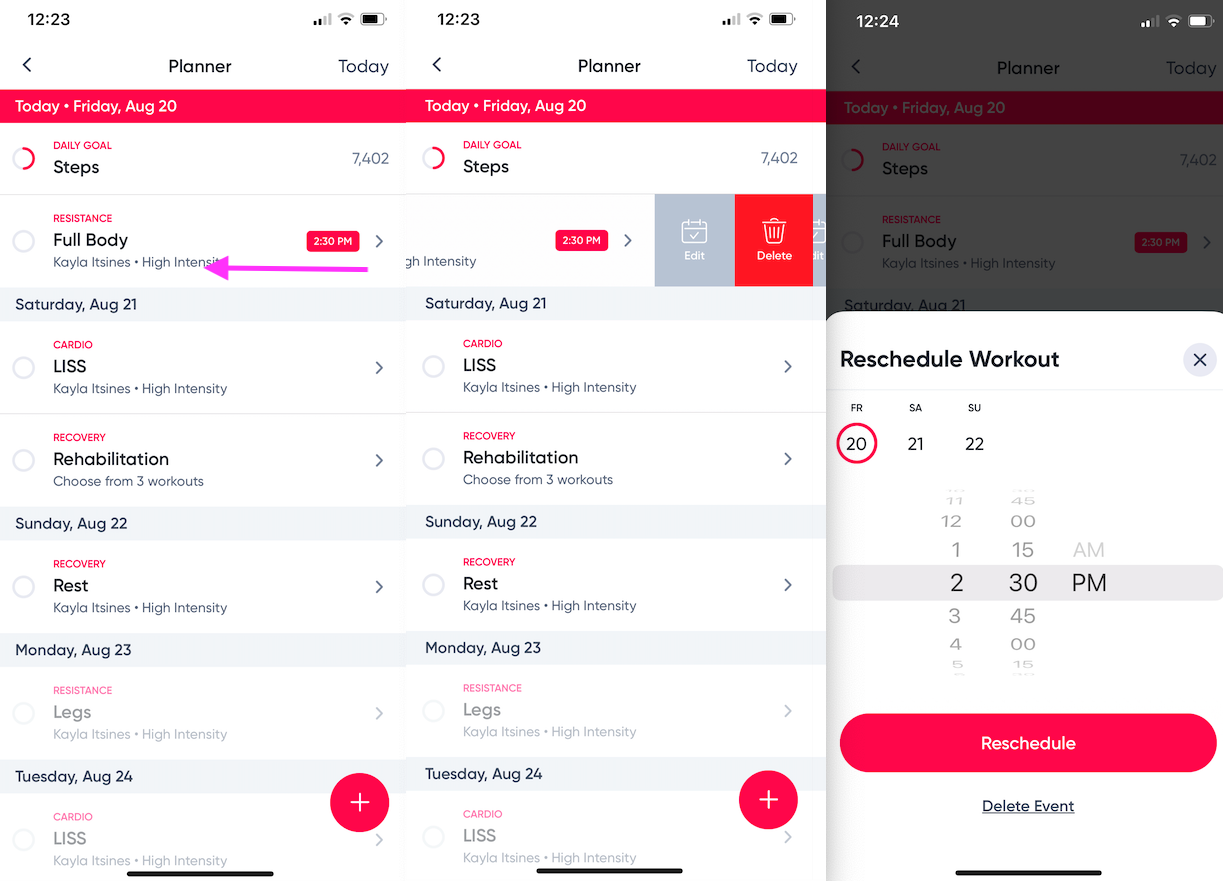 To delete a completed workout, swipe left on the workout and select delete. Please note this will remove a trophy from your goals.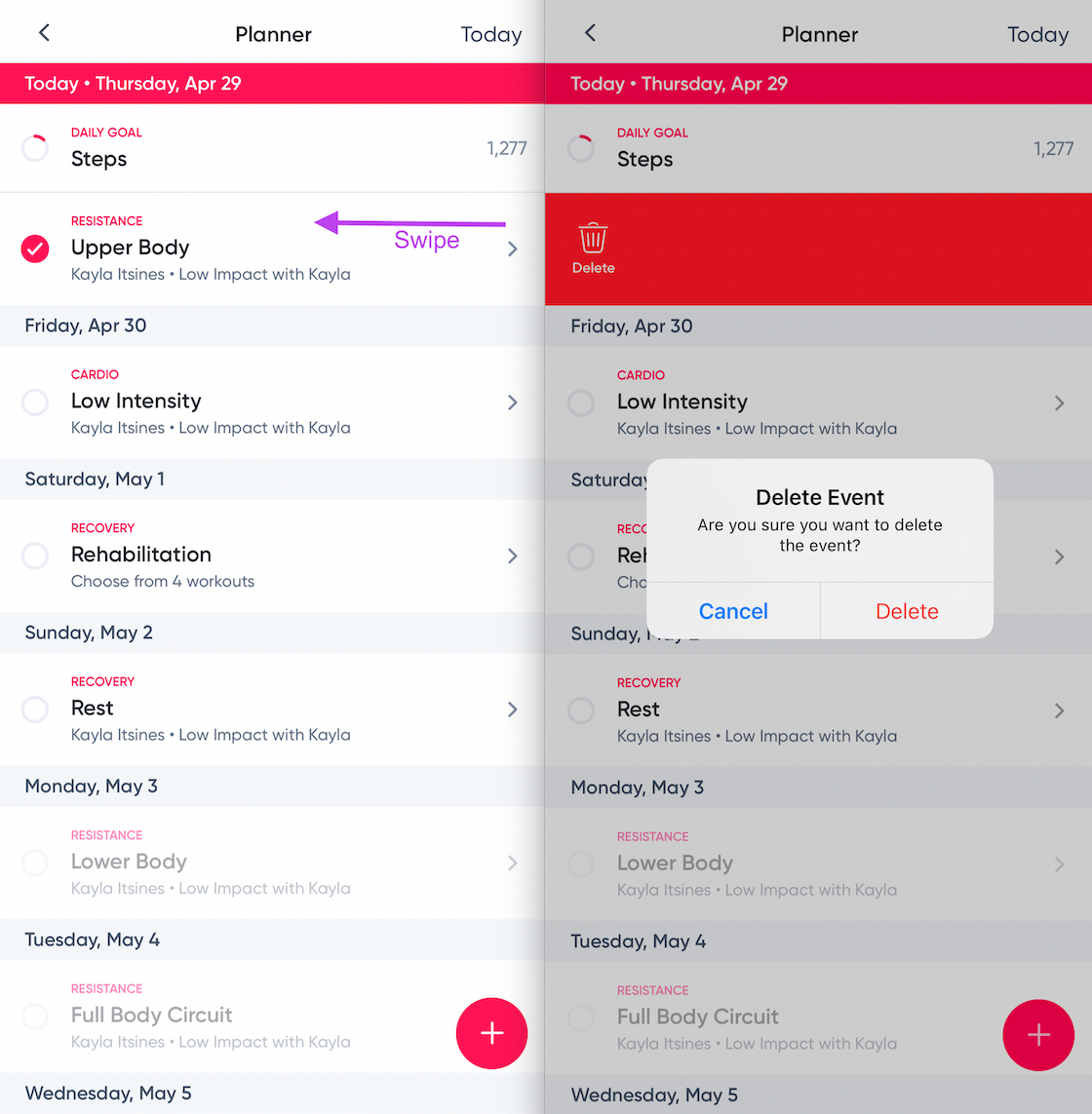 FAQs
Can I retrospectively log a Sweat workout?
You are able to retrospectively log a Sweat workout in your Planner, select the pink + icon on the weekly view of the Planner :)
To log a past workout, tap on the + in the Planner or 'Already Completed Workout' in the Workout Overview. If you mark it as completed from the Workout Overview, this automatically fills in the Workout name and Workout type.

You will be able to select the workout type, date completed and duration for Resistance, Challenge and Recovery workouts, as well as distance and steps for Cardio workouts. Alternatively, if the workout data is recorded in Apple Health or Google Fit, you can import this data directly into the Sweat app.

To count a past workout towards one of your weekly goals, you will need to select 'Resistance, Cardio, Challenge or Recovery' as the workout type and record the workout within the current week. If you select 'Other' or select a date a week prior, the workout will not contribute towards your weekly goals, however, will appear in your Planner to keep track of your activity.
Can I log my other workouts, such as Martial Arts?

To keep track of all your weekly workouts, you can log a non-sweat workout in the Planner. Simply select 'Log a Non-Sweat Workout' and enter the workout name, total workout time and workout notes.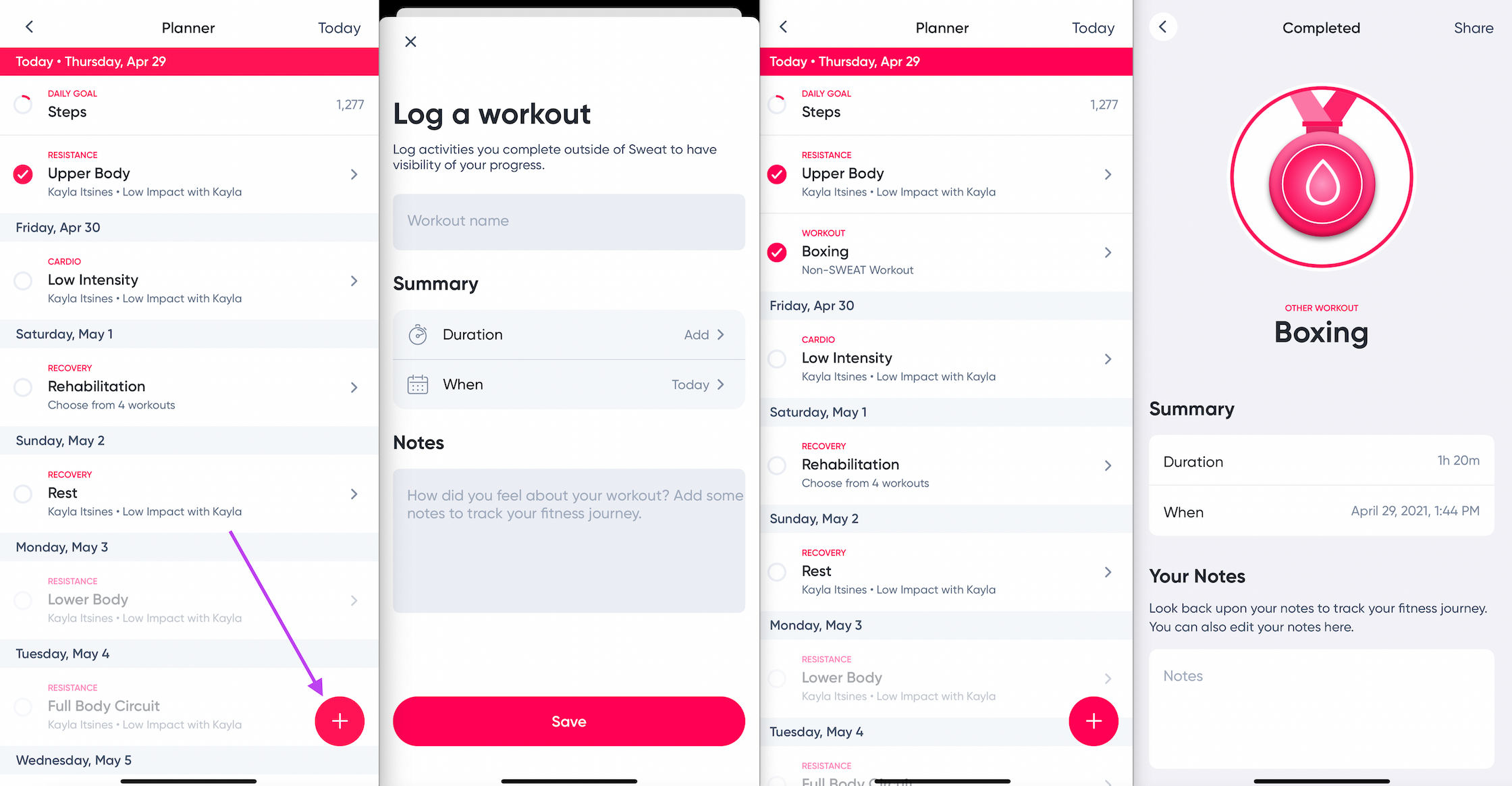 Can I schedule next week's workouts?
You can only schedule workouts for your main programs on the current week. To plan next week's workouts, you will need to wait until Sunday at midnight for your week to update.
'Other Programs' and 'More Workouts' can be scheduled into future weeks from the Workouts dashboard.


Can I sync the planner to my device's calendar?
You won't be able to sync the Sweat Planner with your device's calendar. Workout reminders are sent directly from the Sweat app instead.
We are working hard to continue to improve the Planner functionality over time and would love to hear what features you would like to see next. Send us your thoughts via support@sweat.com.