The meal plan in the Sweat app has been created by our team of nutrition experts to be flexible. We encourage you to make it work for you and your preferences!
There are many different types of diets available also - whether you are vegan, vegetarian or pescatarian, there are options for you! For further information on how to change your dietary preference, see our article here.
In addition to your weekly and daily recipes, a Shopping List is provided so that you can get organised for the week ahead :) More information about the Shopping List can be found within our article here.
What if I don't like an ingredient?
Sweat provides recommendations on suitable substitutes for certain ingredients included within the Meal Plans so you are able to tailor the guide to your personal needs! Simply tap on the ingredient and see if there is an alternative listed. Note that not all foods will be presented with an alternative.
​
​ If you don't like one or more of the ingredients in a recipe and the alternative suggestion that is provided, you can refer to the sample serves table in the 'Education' section of the Sweat app. This table is designed to help you swap ingredients for others from the same food group and their equivalent serving size. The 'Education' section can be found via the Community tab.
​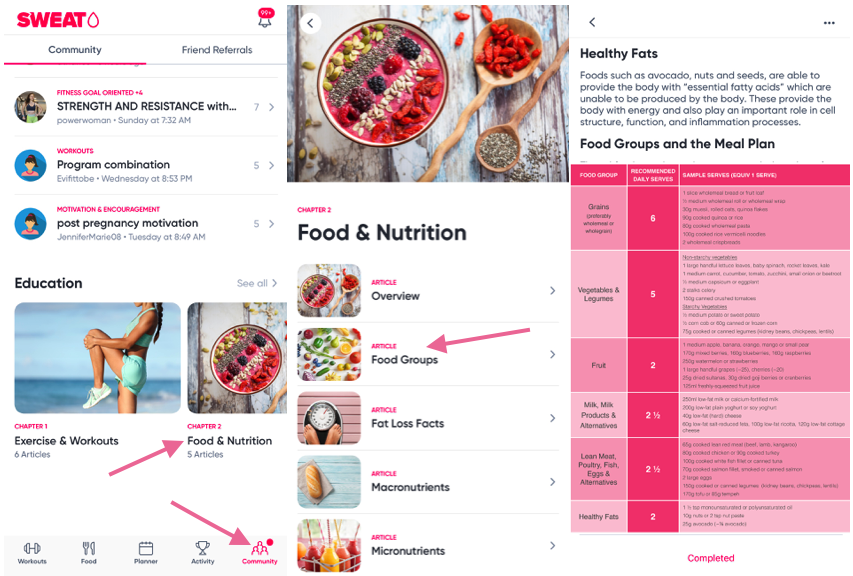 ​
Keep in mind, if you do decide to modify your meal plan, you'll need to manually keep track of any changes you make. You'll also need to remember to shop for any alternative ingredients on your shopping days!
Can I repeat meals?
If you prefer, you can select a particular day from the meal plan to focus your week around. Each day's meals includes the same recommended serving sizes from each food group, but they may be distributed differently across meals throughout the week. For this reason it is important to follow an entire day's plan to make sure you are receiving the recommended servings, rather than combining meals from different days.
For more tips on modifying your meal plan, you can connect with other members in the community via the Sweat Forum.
There's too much food!
We have received feedback from some who have initially found it difficult to consume each full meal per day.
If you're finding this to be the case, we recommend to slightly decrease serving sizes, rather than omitting an entire meal. You should find that as you progress through your chosen program, your appetite may increase as your metabolism speeds up!
The meal plan has been carefully designed to ensure you have energy to get you through the day and your workouts, while also helping you to achieve your health and fitness goals!
Where are my starred recipes?
The meals you choose to 'Favourite' are simply marked with a star and highlighted for the next time they appear in your meal plan.
The meal plans are on a 4 week rotation, the meals will change each week for 4 weeks and then they will reset.